Jaguar Auto Body Repair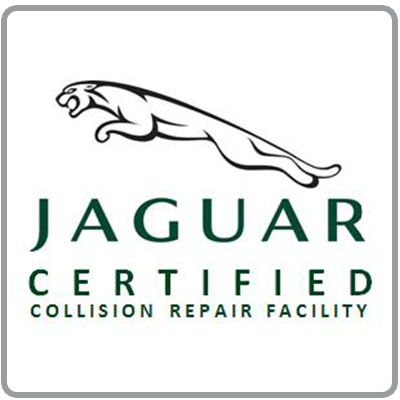 Jaguars are one-of-a-kind luxury vehicles that should only be repaired by expert technicians in a certified auto body shop. Very few collision repair facilities have the necessary tools and expertise to restore your Jaguar to showroom condition, and Imperial Auto Body is proud to be one of them.
Earning a Jaguar certification is no small task. It takes a lot of time, money, and attention to detail. Imperial Auto Body believes that taking the time to earn each manufacturer certification allows us to be prepared and trained to handle anything that comes into our shop.
Being an authorized Jaguar Land Rover aluminum certified collision repair facility, means we are one of the elite centers authorized to perform comprehensive collision repairs on aluminum-bodied Jaguar, Land Rover and Range Rover vehicles. Our high standards of repair and our use of approved Range Rover Engineering methods and techniques mean that your vehicles will be back in pre-accident condition as efficiently as possible.
Jaguar Land Rover North America established this network to better service the collision repair needs for its models. These vehicles have a technologically advanced, all-aluminum monocoque body shell – similar to technology used in the aircraft industry – that produces stronger, safer, faster and more nimble vehicles.
A company that is nominated and selected to be part of Jaguar Land Rover's repair network is a facility that is trained, equipped and certified to perform quality collision repair for these vehicles, restoring them to their pre-collision condition, according to Jaguar Land Rover Engineering standards.